The president of the European Association for International Education (EAIE), Laura Howard, has come under fire for remarks she made about Turkey at the opening of EAIE's annual conference in Liverpool. WUAS also attended the 3-day conference that ended on Friday, after having held many successful meetings with partners and higher education representatives.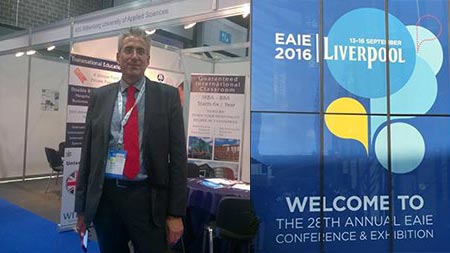 Wittenborg's chair of the executive board, Peter Birdsall, was at the conference along with the university's dean in Amsterdam, Timo Timmerman, and the coordinator of its School for Hospitality and Tourism, Esther Gitonga.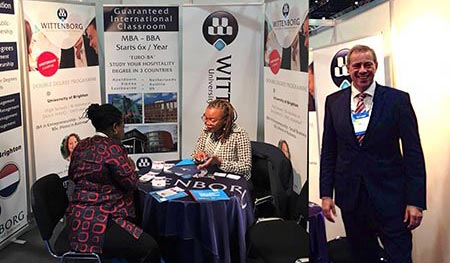 Howard addressed delegates on Wednesday. However, the Turkish Higher Education Business Council (EEIK) - and organising body of "Study in Turkey" - issued a statement the next day, condemning Howard for the "negative image" she portrayed about Turkey in the aftermath of the failed coup attempted against state institutions in July.
"I would like to draw your attention to the points that the president of the EAIE, Laura Howard, made during her talk in the opening session on September 14," the chairman of EEIK, Dr Mustafa Aydin, said. "I feel I need to correct those points. There is no restriction for any academics to travel or take part in EAIE or any other educational event.
"Without doubt – albeit a small number – there were academics and individuals who endorsed and were involved in the failed coup attempt. As a result, restrictions on those individuals have been implemented.
"Everywhere around the globe, individuals and groups who are involved in any act to interrupt the democratic system and those involved in any kind of violence and acts of terror are punished and removed from their posts that they exploited and took advantage of. But it seems to be very unfair to generalise it. It is also unfair and an insult to those universities and representatives participating in the EAIE 2016 from Turkey.
"The words and points expressed in the opening speech made by the President of EAIE do not and are not representative of the situation and image of Turkey," Aydin said.
The EAIE was contacted for comment but has yet to respond to the EEIK statement.
Over 200 exhibitors showcased their products and services at the conference. Wittenborg had its own stand, attracting a lot of interest, and also helped out at the "Study in Holland" stand. The Wittenborg team had several meetings aimed at forming strategic partnerships internationally.
During the 3-day programme there were more than 170 sessions and over 20 networking events.
WUP 16/9/2016
by Anesca Smith
©WUAS Press