Passionate About Improving International Student Experience in the Netherlands
Dr Jan-Albert Dop has been appointed as new Vice-President: Corporate Affairs at WUAS.
For the past 9 years Dop has been associated with NRTO, the Dutch Council for Private Universities and Institutions for Education and Training. Being awarded the NRTO Quality Mark in the Netherlands – which Wittenborg attained two years ago – is seen as an important benchmark recognising the quality and professionalism of an institution in the field of private education. Dop is a member of NRTO's Commission for Quality Maintenance.
In his new role, Dop will largely work on how Wittenborg is profiled vis-à-vis the Dutch government, other authoritative bodies in the education sector, as well as other institutions of higher education. "As an education institute you get all sorts of information thrown at you by government authorities and you have to formulate a response to that. For example, changes in the regulatory environment."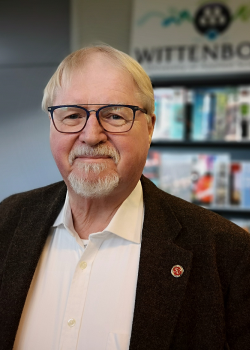 He will also work closely with Wittenborg's Vice President: Academic Affairs, Professor Dr Ron Tuninga, who was appointed last year to help raise the overall standing of the institution within and outside the Netherlands, as well as attaining its target to gain AMBA and AACSB accreditations.
Dop, who was born in the Netherlands, started his own university career as an international student in the US. "I was a Fulbright student for a year at Ursinus College in Philadelphia and, as part of a select group of foreign students, was received in a manner I still think all international students are entitled to."
After the US he obtained his doctorate in Cultural History from Leiden University and started his career mainly in the business sector. "I was lucky to work for international companies such as Heineken and McKinsey & Company.
"About halfway through my career Webster University opened a branch campus in Leiden where I have been living ever since." Eventually Dop became a director at Webster and also became actively involved in the NRTO. "I was able to continue this after my retirement. Why? All too often, we observe that young people from abroad, once here, are left to their own devices. That's a disgrace. It can be different, but that requires another line of approach from the educational institutes: one that focuses on the individual student. As a member of the National Commission, it is my ambition that anyone who comes to study in the Netherlands will have the same positive experience as I once had."
WUP 23/2/2019
by James Wittenborg
©WUAS Press