Giro College Tour: Many Career Opportunities in Sport, say two Top International Coaches on Saturday at the Wittenborg event
A good combination of international speakers, interesting workshops and great food made the Giro College Tour hosted by WUAS this weekend an outstanding event. It was held in the run-up to the 2016 Giro d'Italia which will kick off in Apeldoorn on 6 May at Wittenborg's Spoorstraat location that was decked out in a flurry of pink balloons, banners and stalls offering pink pizzas and warm drinks, bustling with guests, student volunteers, VIP's and staff.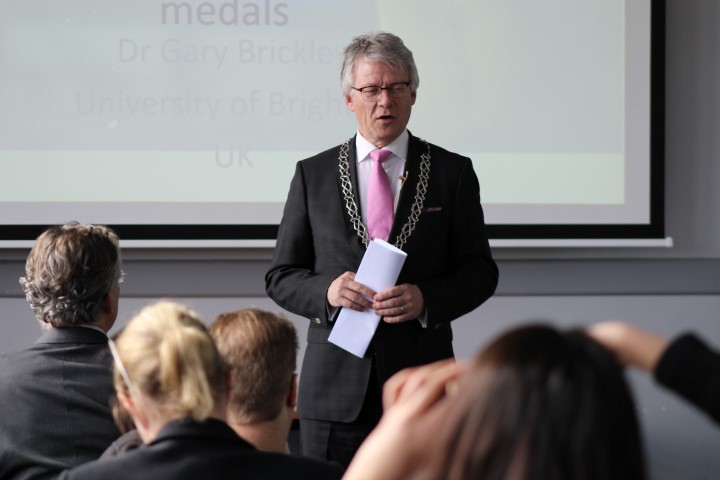 The mayor of Apeldoorn, John Berends - decked out in a pink tie, matching the colors of the Giro d'Italia - opened the event, thanking Wittenborg for its contribution as the city gears up to the May-event. According to him there will be more than 1500 side events around the Giro d'Italia in Gelderland province. Wittenborg managed to secure top international sport coaches, Dr Gary Brickley from Britain and Remy de Wit from the Netherlands, who put their motivational skills to excellent use, telling of the many career opportunities awaiting in sport.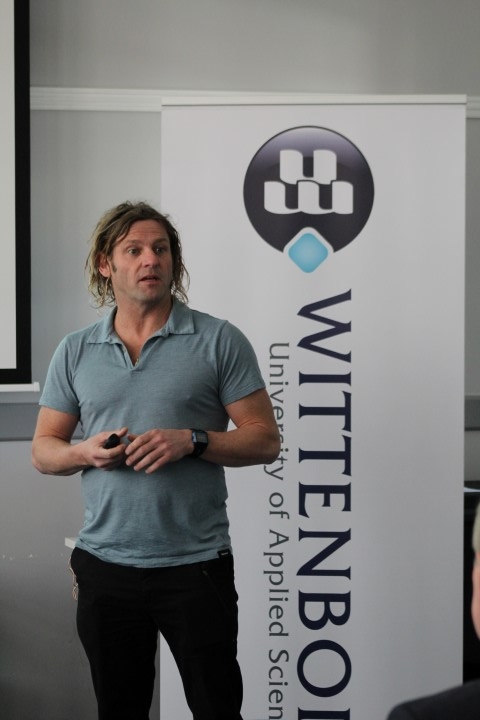 Brickley, coach to Britain's Paralympic Cycling Team and senior lecturer at Brighton University - Wittenborg's main education partner - talked about what it takes to win gold at a top international level. Brickley's team won 8 gold and 1 silver at the Paralympic Games in Beijing in 2008 and aims even higher for the Rio Games later this year. De Wit, who is head coach for the Dutch Women Basketball Team, in turn highlighted the elements needed to shape an athlete at a young age from a potential into a professional sports star.
Brickley talked about the harsh realities and physical obstacles facing Paralympic athletes who wants to reach the top, but also the sweetness of their eventual triumph and how it inspires him as their coach. He listed the various roles he has to play as coach - including advising on doping control in sport and nutritionist, admitting the fine line that has to be walked between the two. According to him none of his athletes has ever been caught doping. "The challenging part for me as coach is that each athlete is different, but I also enjoy trying to get the best out of that person. It takes a lot of organizational skills."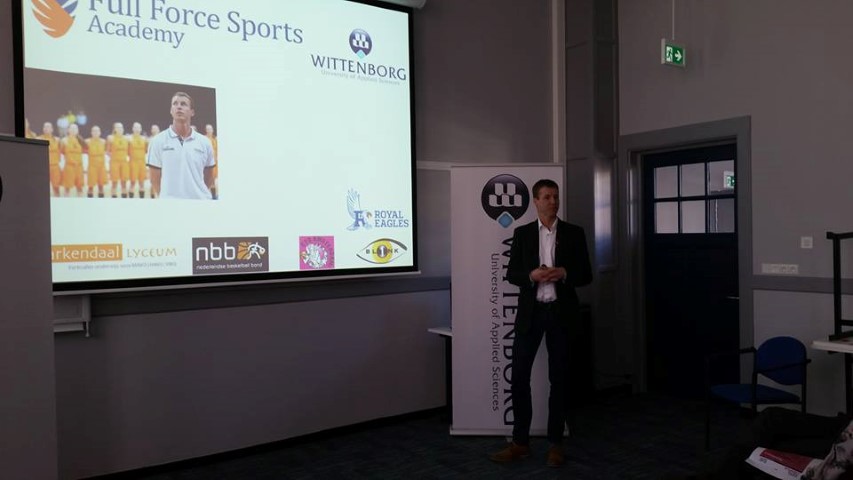 The event also served as an introduction to Wittenborg's new MSc in Sport Business & Management, a programme taught entirely in English for both Dutch and international students. It will be offered from October 2016. According to Wittenborg's CEO, Maggie Feng, the IBA in Sport Business & Management will lead to the master's degree. The programme is being offered in collaboration with the University of Brighton in the UK. Full-time as well as part-time studies will be possible. Brickley said the continual interest in sport will ensure many interesting career opportunities - including in marketing, sport products and other businesses. De Wit talked about how to prepare athletes from a young age to reach the top. According to him an athlete's sporting life needs to be balanced with education and lifestyle. With various models and examples he gave a glimpse of an athlete's life, the difficult decisions they sometimes face and what others can learn from that.
WUP 14/3/2016
by Anesca Smith