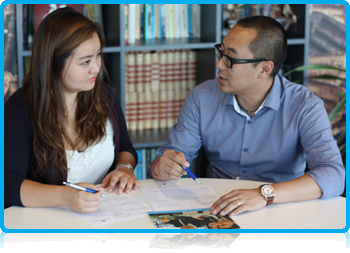 Debbie Kuang Fund - WUAS will offer 6 scholarships in 2013-2014 through the Orange Tulip Scholarship, (OTS) organized and promoted by NESO in China for top-talent Chinese students wishing to study in the Netherlands.
The Scholarships, totalling 55,000- euro in fee waivers have been made available as part of the Debbie Kuang Fund, set up last May in memory of Chinese student Kuang HuiHong (Debbie) who lost her fight with cancer earlier this year.
Orange Tulip Scholarship China Programme
The OTS China Programme was launched in September 2008, and has been running successfully since. The scholarship programme helps to create opportunities for ambitious and talented Chinese students to study in the Netherlands. The OTS programme was established by NESO China in close cooperation with the economics department of the Dutch Embassy, and has received continuing support from Dutch higher education institutions, and from China-based Dutch companies.
Wittenborg, under part Chinese management, has strong ties with Beijing and Shanghai and is listed on the official website of the Chinese Ministry of Education, as an officially recognised higher education institute in the Netherlands. (http://www.jsj.edu.cn/index.php/default/index/sort/12025)
According to WUAS Trust board member Maggie Feng, Wittenborg is proud to be able to bring its Dutch higher education together with the foundation's international roots, providing academic programmes and partnerships from the UK (in partnership with the University of Brighton), and creating strong partnerships with the Shanghai Business School and the Shanghai Finance University in China: "We had a very sad start to the summer, with the death of our Chinese student Debbie, and I am now very pleased that the fund we instigated in her memory can be launched with these 8 scholarships through the NESO's OTS programme. "
In comparison with other scholarships offered by Dutch organizations, the OTS programme is a special one, only open to Chinese qualified students. According to the NESO's website, for the academic year 2012-2013, the total value of the OTS programme reached amounts around 300,000 Euros (about 3 million Yuan) . Around 30 excellent Chinese students benefited from the programme to obtain a bachelor or master's degree in recognized Dutch universities, financed by OTS sponsors.
The OTS programme for 2013-2014 will be launched by NESO in September and applications can be made through the NESO's website at http://www.nesochina.org/chinese-students/information-in-english/scholarships/OTS_welcome
WUP 17/08//2012
©WUAS Press
Source: http://www.nuffic.nl/en/scholarships/orange-tulip-scholarship-programme