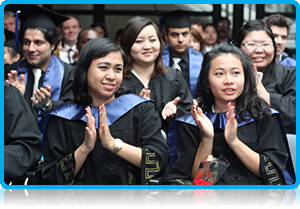 September will see a new Education Act in the Netherlands entitled 'Kwaliteit in Verscheidenheid Hoger Onderwijs' which is literally translated as Quality in Diverse Higher Education. The Act will enable academic 3 year Bachelor programmes to be offered by Dutch "Hogescholen" (Universities of Applied Sciences) and incorporate the concept of the Associate Degree, which until now has only been run as a pilot at the participating institutions. The new Act will also enable institutions to cluster degree programmes into what is being termed "the broad Bachelor degree".
When WUAS started developing its international degree programmes in 2004 it chose to create what is now being called a Broad Bachelor – the Bachelor International Business Administration with various different pathways, such as Hospitality Management, Marketing & Communication and Financial Services Management. The concept was first accredited by the Dutch NVAO* in 2006 and was reaccredited with 8 programme pathways in 2012, also by the German FIBAA*. The IBA programmes have been further developed with 4 new pathways and in 2014 will consist of 12 degree programmes.
Although Wittenborg successfully developed the concept of the Broad Bachelor nearly 10 years ago, this new Act will enable institutions who don't yet have a Broad Bachelor concept to experiment with the combination of pathways for the coming 5 years.
WUAS's IBA Bachelor makes study choice easy for students as by choosing the broad business domain they don't have to choose the definite graduation pathway until the second year, avoiding making a "wrong choice" at the start of their studies. For instance, a student who initially thinks that they would like to follow a Financial Services Management degree pathway can still easily change their choice to Hospitality Management within the IBA, without losing time or having to switch programmes or even institutions.
WUP 16/7/2013