Big Scholarships up for Grabs at Wittenborg's "Bootcamp" for Prospective Students in Entrepreneurship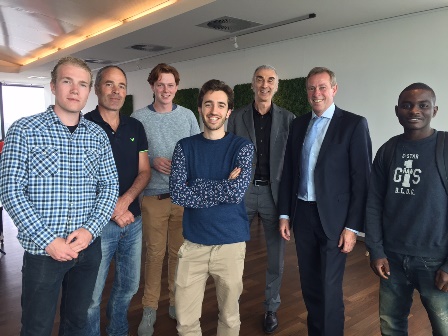 Prospective students can win scholarships of up to €10 000 if they attend WUAS's "Bootcamp" on Wednesday 1 July for those interested in studying entrepreneurship and small business.
From September 2015 Wittenborg's IBA in Entrepreneurship & Small Business programme will be offered at its new Amsterdam location – in the creative heart of the capital city's start-up scene. The programme is for students eager to start their own business but backed up with a solid degree and learning from experienced entrepreneurs while earning that degree.
The Dean of Wittenborg Amsterdam, Timo Timmerman, said the programme focuses on entrepreneurship so graduates can start their own business or opt for a career in the industry as a corporate entrepreneur. "A substantial number will start their own business after gaining experience during the programme but can also be entrepreneurial in industry, work in a family business or start their own company later in their career. After the BBA continuing with your studies in a master programme is also of course a good option."
During the Bootcamp potential students will work together in diverse teams or individually to come up with the next big business idea. Those who already have a big idea are also welcome to see how their studies can be tailored around that.
Wittenborg's team of entrepreneurs and coaches will be at hand to guide "bootcampers" through an interesting day of start-up self-discovery which will also see teams (or individuals) competing to win 3 scholarships:
1st prize €10 000 over 3 years
2nd prize €7 500 over 3 years
3rd prize €5 000 over 3 years
The bootcamp will take place on Wednesday 1 July from 9:30 - 16:30 at Wittenborg's magnificent new central Amsterdam location: Piet Heinkade 55, UP Building, 1019GM, Amsterdam.
The new location will be head up by Timmerman, when classes start in September 2015. He has over 35 years of experience in Dutch Higher Education and has facilitated some of the most innovative collaborations between education and business.
Students who follow the IBA in Entrepreneurship & Small Business will work closely with the university's incubatorUP companies, providing a first-hand introduction to the start-up world, plus projects and coaching opportunities for classes. They will be strongly encouraged to use the incubatorUP community workspace to develop their own next big business idea while studying.
In addition Wittenborg regularly offers academic study trips around the world, including study abroad opportunities such as at the Shanghai Finance University and a double-degree programme with the University of Brighton in the UK.
At Wittenborg students are educated in classic principles of business while at the same time they are exposed to the latest trends in the world of entrepreneurship. On the one hand students get individual attention but on the other, many of the classes emphasize teamwork with groups competing against each other. Think of TV-shows like The Apprentice! Students thus learns leadership, develop intercultural skills, strategic thinking, presentation skills and open-mindedness. Students will have close contact with existing start-ups via our business incubator – which provides various support services to young entrepreneurs.
Costs
€9.800 – Tuition fee, per year
€7.800 – Student Hotel 10 months (optional)
The academic programme will be complemented with top-notch student accommodation thanks to Wittenborg's partnership with The Student Hotel in Amsterdam. Within 5 years Wittenborg's Amsterdam Campus is aiming to have about 300 students, 25 lecturers, more than 50 associate and guest lecturers, 10 PhD researchers and a support staff number of about 15.
WUP 25/6/2015
by Anesca Smith