Be Ready for When Normality Returns, Wittenborg President Tells July 2020 Graduates
Graduates' Stories of Perseverance Inspire at "Special" 2020 Summer Graduation Ceremony
Wittenborg's 2020 Summer Graduation Ceremony on Friday was one for the history books – part virtual and part socially distant, but no less celebratory in nature. It was held at Wittenborg's main campus in Apeldoorn and was marked by inspiring stories of perseverance and graduates overcoming many difficulties, including one Chinese student who had to complete her final thesis in locked-down Wuhan, where the coronavirus was first detected.

A total of 44 students from all over the world graduated this summer, of which almost half were master's degree students. Due to COVID-19 situation, it was initially thought that an in-person ceremony would not be possible. However, some graduates made a touching appeal to the university's management, who took the necessary steps to make the venue as safe as possible for students and staff.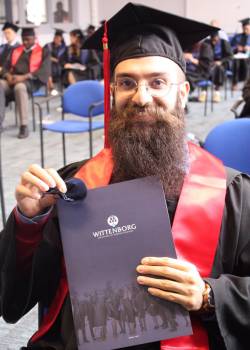 This resulted in about 60% of graduates opting to attend in person while others followed online. Appropriate social distancing was observed and attendees were required to wear masks. This year, graduates' guests were not allowed to attend in person, but could follow online in unrestricted numbers. While some academic supervisors introduced their students virtually, others congratulated them in person. From 1 July, physical classes at universities are allowed again in the Netherlands.
IBA graduates, Bertha Tanaem and Adrian Basundara – both from Indonesia – were among those who attended the ceremony in person. Resplendent in their gowns and caps, the two said they would not have missed it for the world. "We worked very hard and this is such a special moment to finally receive your diploma," said Tanaem. Adrian said he did not want to miss the thrill of being part of the class of 2020 who graduated during the coronavirus crisis.
"I will wait until I am with my family and friends back home to celebrate properly," he said. For now, he and Bertha will keep the celebrations low-key.
Among the graduates was Chinese student, Xi Yang, who was trapped for months in ghost-town Wuhan while completing the final part of her studies. She joined the ceremony online.
The keynote speaker at the event was Jack Pieterson, who has been a member of Wittenborg's Advisory Board since 2012, and a director at paper-based packaging giant Smurfit Kappa. He said while some graduates – those who will not further their studies – will find a job easily since there are some sectors that grew during the coronavirus crisis, others might find it difficult.
"Be aware of the value you can add to a company – all the skills you have and the fact that you already have international experience. When I look at my business in western Europe, the people who are successful are always those with the right skills for the job and those who can bridge cultural differences."
Wittenborg President Peter Birdsall also gave a word of encouragement and urged students to position themselves in the job market and promote their abilities. "Highlight where you studied, your background and why you went abroad. Hopefully, your internationality and the diversity here gives you an advantage. None of us will forget 2020 for various reasons. Eventually, COVID-19 will go away – maybe not tomorrow or next month – but we will get back to a certain level of normality. You need to be ready for that."
WUP 11/7/2020
by Anesca Smith
©WUAS Press