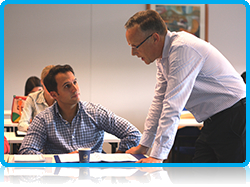 It has been almost three months since the start of the Master of Science programmes - International Hospitality Management, International Event Management and International Tourism Management - jointly delivered by WUAS and the University of Brighton in the UK. We checked in with some of the students to hear how they are experiencing the programmes so far.
Mazhar Hussain is from Pakistan, but have been living in the Netherlands for three years and has obtained Dutch citizenship. He is a MSc-student in International Hospitality Management. According to Mazhar he likes working in Holland because of the Dutch culture, strong economy and the good infrastructure.
"I have a bachelor degree in hospitality and have been working for 12 years in the industry. I thought it would better my prospects internationally if I obtain a master degree. There are very few institutes that offer a master degree in hospitality which is why I decided to study at Wittenborg.
What does he enjoy about the programme and how does he think it can be improved? "The classes are very small so we get a lot of individual attention from lecturers. That is one of the many good aspects. However, I think the practical content can be increased. For instance, the school should facilitate more collaboration between hotels and the students so we can get more knowledge on for instance what they do to increase sales and improve managerial skills."
After completing his degree, Mazhar plans to dip a toe in the Dubai hospitality industry. "My plan is to go there for 6 or 12 months. There are many prospects in the Middle East and Asia and I want to see how suitable it is for me."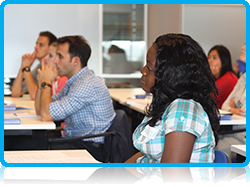 Bernadette Yolanda from Jakarta, in Indonesia, is a MSc-student in Event Management. Before arriving in the Netherlands in February this year she studied interior design in her homeland and dabbled in the fashion industry as a merchandiser. "After working as freelance interior designer in Jakarta I wanted to do something new with my life. I am interested in events management and Wittenborg is the only institution offering a programme in that.
She loves that the master-degrees are taught by both lecturers from Wittenborg and Brighton. "It feels like I am being well-prepared before going into the industry." She too feels the program should have more practical content although she is enjoying it. "All of them are very helpful."
According to Yolanda she will definitely recommend the master programs at Witttenborg but cautions that it requires a lot of discipline. "You have to take the initiative. While doing my bachelor degree I could sometimes get away with doing assignments a day or two before the deadline, but with masters it takes a lot of thinking and reflection. I am used to performing well under pressure - the closer the deadline, the better I work. But with the master program that approach does not work. You have to continually work on assignments. For instance, it is now November but I already know I have assignments in March next year."
After completing her degree she plans on staying in the Netherlands to look for a job. "It is a really different place than Indonesia. For starters there are much less traffic! But I don't like the weather." Outside school, she likes traveling as well as art and design.
WUP 2/12/2013
Interview by Anesca Smith
©WUAS Press