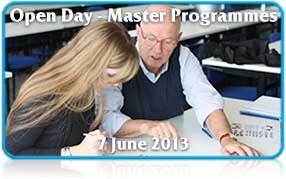 WUAS opens its doors to interested students in 3 MSc programmes from the School of Hospitality and Service Management. The Full Time and Part Time MSc degree programmes start in September and last 1 and 2 years respectively.
The MSc degree programmes are offered jointly with the University of Brighton and lead to a a double (UK and Dutch) MSc / Postgraduate degree. The degree fee is 12600 euro, however WUAS graduates (current students and alumni) are given an automatic scholarship of 3000 Euro. Students requiring 2 years or more to graduate (including part-time) are required to pay the additional registration fee of 1500 euro (total), for years 2 /3.
The Master International Hospitality Management is an excellent follow-up for Bachelor graduates from Bachelor programmes such as Wittenborg's IBA degrees, other business and economic degrees in Holland, and also Hotel schools in the Netherlands and around the world such as the Dutch schools the Hague, Stenden, Saxion or TIO. The MSc offers an academic research degree that can be finished in 1 year (full time) or 2 years (part time). All Wittenborg's MSc degrees are suitable for working professionals who want to combine study with their working careers.
The Master International Tourism Management offers students the opportunity to specialise in a particular area of the tourism industry, carrying out academic research, combined with an in-company project (optional). The degree also takes 1 year full time and 2 years part-time.
As a broad Management Master degree, the MSc International Event Management is the broadest of the three service orientated MSc degree programmes. The degree offers an in-depth study of areas of organisation, marketing, entrepreneurship, globalisation and event management in SMEs or multinational corporations.
During the open day, prospective students will get the opportunity to meet with lecturers, current students, support staff and also follow an example lecture given by one of WUAS's own professors, together with teaching staff from the UK.
more information? - contact admissions@wittenborg.eu
..more details to follow..
WUP 9/5/2013