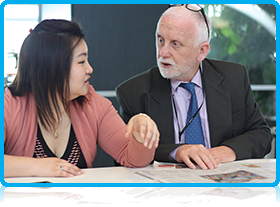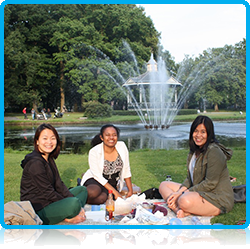 It's all quiet at Wittenborg during the summer break, but the admissions team are working at full strength, taking in applications to Wittenborg's Bachelor and Master programmes for the various starts after the summer.
The first introduction week of the 2013-2014 academic year will take place in the week starting August 26th, for the start of Block 1 the following week.
During the Introduction Week, new students will be introduced to Wittenborg, its education system and concept and the way of working at the University. New students will also be introduced to Apeldoorn, and shown around by members of the Student Reps and student support staff.
Introduction week will see new and current students making study agreements with their tutors, choosing modules for the coming academic year learning about the timetables and planning. Books for the coming block will be issued to both new and current students, based on the study programme.
Introduction week events will be repeated at the start of Blocks 2 and 3 for new students starting then.
The Bachelor and English Foundation programmes have 3 entry points in the Winter Term - September, October and December!
The 1 year Master programmes in Hospitality, Tourism and Event Management start with an Induction Week on the 9th September, and the taught modules start 1 week later from the 16th September.
The WUAS August Newsletter: Download the latest edition here: Wittenborg August Newsletter.pdf
WUP 31/7/2013