Welcome to the Admissions Office!
Our Admissions Team prides itself on delivering a personalized and efficient communication with students. The advantage of applying and enrolling at Wittenborg University are:
We ensure that you are applying for the most suitable course that fits your needs and promise to provide you with excellent information and guidance;
International Student? - we process your complete Shengen visa aplication for you and arrange your residence permit;
We assist in all aspects of getting you ready to start - pre departure; and arrival!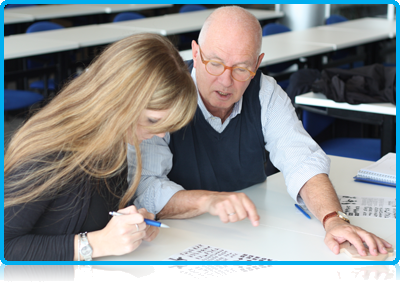 Deciding where you want to study is always a difficult task, and Wittenborg's Admissions Office is geared towards helping you decide if Wittenborg is the right International University of Applied Sciences and has the right University programme for you. Our admissions team has more than 10 years experience in assisting prospective students in the decision making process, helping them to choose the right programme, and evaluate their study needs, requirements and goals.
Once you have decided to apply for admission to one of Wittenborg's programmes, the Admissions Office will assist you in your application, whether you are a new (freshman) student or a transfer student. The Admissions Office helps both Dutch and International students, living in the Netherlands or coming from abroad.
The Admissions office will assist students with aspects such as study exemptions, fees, scholarships, student accomodation, visa's (shengen visa), insurance, books and study materials, and much more.
How will you decide if Wittenborg University is right for you?
Read about us - this website contains the look and feel of Wittenborg, and provides prospectuses and education guides to download.
Make an appointment for a personal interview with an Admissions Officer, or arrange a telephone interview with us. The person you will speak with has many years of experience talking to students and their parents about their study choice, and advising students on what they should think about when they are deciding about Wittenborg.
Try Wittenborg in a sample workshop / seminar. One of the best ways to get a feel for Wittenborg is to come and join a seminar or a workshop. Throughout the year Wittenborg opens its Seminars and Workshops to students who would like to come and sample the classes. Visiting students can experience either a half day or even a full day at Wittenborg, depending on their wish. The Sample Wittenborg day will include a discussion with one of our Admissions Officers, and the chance to talk to current students!
Please contact us with any us with any questions you might have.
Email us at admission@wittenborg.eu call us in Apeldoorn on +31 (0)88 6672688
Read about us - this website contains the look and feel of Wittenborg, and provides prospectuses and education guides to download. Make an appointment for a personal interview with an Admissions Officer, or arrange a telephone interview with us. The person you will speak with has many years of experience talking to students and their parents about their study choice, and advising students on what they should think about when they are deciding about Wittenborg. Try Wittenborg in a sample workshop / seminar. One of the best ways to get a feel for Wittenborg is to come and join a seminar or a workshop. Throughout the year Wittenborg opens its Seminars and Workshops to students who would like to come and sample the classes. Visiting students can experience either a half day or even a full day at Wittenborg, depending on their wish. The Sample Wittenborg day will include a discussion with one of our Admissions Officers, and the chance to talk to current students! Please contact us with any us with any questions you might have. Email us at admission@wittenborg.eu call us in Apeldoorn on +31 (0)88 6672688