Wittenborg Net, or Wi-Net, stands for the Wittenborg University of Applied Sciences Network, which is the interface between Wittenborg students and real-life business projects. Wittenborg Net is committed to providing business school students with authentic business environments that they can study and sometimes participate in. Wittenborg Net aims to create new brands, create and support new companies – for and together with its business school students. The network currently supports eight active business brands in the area of consultancy, training, research, labour supply, and website solutions. Furthermore, Wi-Net provides students with a platform in which they can develop business models and plans, without taking personal risk.
WiNet news: http://www.wittenborg.eu/winet-the-wittenborg-university-brand-and-company-start-incubator.htm
All Wi-Net products are explained in the tabs below:
Wittenborg of Applied Sciences Corporate Development
Wittenborg of Applied Sciences Corporate Development (WUCD)
Wittenborg University of Applied Sciences Corporate Development offers corporate organisations the opportunity to invest in development programmes for staff. Staff will receive excellent applied learning and receive recognised credits towards bachelor's and master's degrees.
Each module is offered in a number of European Credits, an academic year equates to 60 credits.
Credits in all modules are part of Wittenborg programmes, have European accreditation, and are internationally recognised.
A range of single modules are available in various business areas for example:

Communications
Sales Pipeline Management
ICT Project Development
Marketing
Project Management
Management
Recently, WUCD was responsible for delivering a module training session to 150 employees at Bayer, resulting in MBA Credit Certificates for successful participants.
"From Business to IT and back again"


IT demand Management Softskills Workshop
Personal communication skills seminar to assist IT Demand Managers at Bayer:
Increase participants' business awareness and the impact of IT on business

Translate business language into IT terminology

Practice describing IT projects (process, red flags, benefits) to business people

Learn about consultative question asking behaviour to increase chances of discovering business needs

Learn how to use objections as opportunities

Understand the importance of "qualifying" a request from business

Develop a sense of ROI related to IT projects

Understand the psychology of influence and persuasion
Over the past 10 years, IT has seen a progressive change in the way it interacts with its business users. Application and process understanding has become fundamental in the outsourcing of many infrastructure roles and tasks, and the recognition of its people as a service function and a business enabler, rather than a cost centre.
Many challenges still remain. The ITDM (IT Demand Management) programme looks at this specific role and sets a series of competency standards related to the soft skills that a practitioner needs to do their job well.
The programme lasts about 96 hours split between face-to-face training, team project work and individual reading assignments.
Programme overview: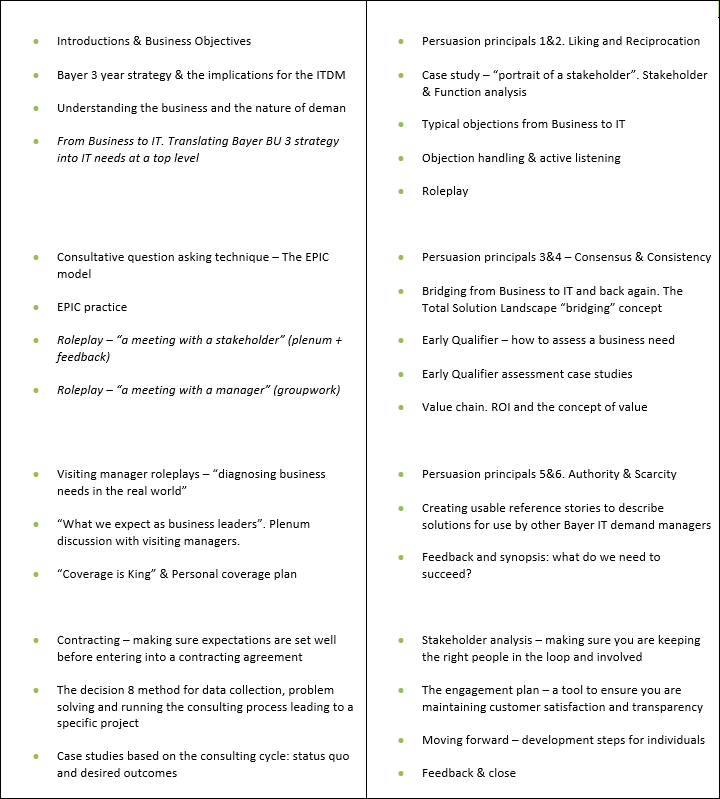 Lyniks Systems
Getting your message across effectively through affordable website building and design, resulting in manageable websites reflecting and branding your products/services, size, and ambitions.
Lyniks systems is a low cost solution for creating websites. Within 2 weeks we will have a simple website running for you which enables the following capabilities:
Edit functions - The most important functionality for a small to medium-sized enterprise is to be able to edit the content of a website quickly and efficiently, WITHOUT needing to be a programmer, or to have specific skills in website control.
This means your descriptions, text elements and bullet points can be changed whenever you need to – as easily as changing a word document.
Internationalisation - The Wittenborg infrastructure guarantees that whatever languages you need your website to be in, we can translate your text to where it reflects exactly the content you send us at the beginning.
Pipeliner Sales
Dealing with your sales function effectively through an innovative and conceptual team sales approach aimed at pipeline sales consulting, teaching you a consultative selling methodology through training and software.
Pipeliner Sales is an organisation that provides training, consulting and planning services, specifically for the sales environment.
Our methods are based on the principles of good pipeline management.
We keep everything practical and simple, and show the direction for complexity and depth. We teach really well. Do our participants use our materials? They take ownership.
We are able to offer our services in many different languages. This is unique. No other company can offer truly standardised methodology, with local expertise, fully translated materials, across 14 languages.
Industry specific
The pipeline concepts fit best with:
project sales
solution sales
key account sales
Software. As a direct result of 10 years' successful training, we have created software that supports the Pipeliner methods.
SpeakerMedica
Running successful meetings and conferences through a high-end skills development programme in medical industry speaker training, enabling doctors and key opinion leaders to become successful delegates.
Speakermedica improves the overall quality of medical conferences, by providing "speaker training, rhetoric and presentation skills" for the conference participants and delegates.
We have 2 main goals:
1. Enabling excellent conferences! The first is directed at the conference organiser. This is our customer. Their need is simply to arrange and execute an excellent event for their customers – the attendees of the conference. Our services add an extremely important learning point to their customers' jobs – the ability to present ideas well!
2. Doctors NEED to present well! Our 2nd goal is directed at our "end users": the doctors or delegates who hear our presentations. We give them the tools, knowledge and sometimes practice to improve their speaking skills, and thereby improve the transfer of their knowledge.
Of all the professions in the world, the medical profession MUST be good at presentations, because the words they say have a direct influence on people's quality of life, or prescription practices.
With our 15 years of experience in the pharmaceutical and medical environment, we guarantee that the unique services we offer are improving doctor's and Key Opinion Leaders' speeches around the world.
Leadership-DC
Specialising people for business priorities through a facilitated consulting offering, helping you in top-talent pool strategy building and using the Development Centre approach, focusing on best practice.
The DC concept is a practical training and development programme designed to assess and develop the skills of a specific group of high-potential candidates, while at the same time allowing top management levels to steer and motivate their people.
We offer 3 services:
The Leadership Development Centre (L-DC) approach is the superlative form of training and development exercise that a company can invest in. The L-DC offers training for managers on their personal development plans, identifying and developing their learning needs.
Leadership-DC specialises in multi-national organisations across all branches of industry and sectors. We work very hard to make sure our concepts reflect our clients' unique positioning, business philosophy and corporate values. Our programmes are always cut directly to the clients' needs and preferences.
What are the advantages of the L-DC approach?
It has been clearly demonstrated that the DC approach provides a valid means of evaluating one's potential to function effectively in a management role.
The evaluation is made on participants' abilities to perform tasks important to managerial success and professional development.
The participants are evaluated on behaviour in several situations, both as individuals and as members of a group.
A DC can be used to increase the effectiveness of branch offices by improving and consolidating the leadership skills of the branch managers. The knock-on effect is clearly visible.
A key DC benefit and goal is to retain key people by displaying clearly the growth and opportunity path with the organisation over the next 3-5 years.
---
SearchYear.nl
Finding the professionals you need through an employment agency specialised in workforce and intern supply, linking Dutch/international university graduates to companies and organisations in need of top personnel.
Searchyear.nl is focused on industry's need for young, qualified professionals and combines the placement of students in paid traineeships with the actual outsourcing of international graduates who have completed their studies in the Netherlands by maintaining a network of internationally orientated companies and organisations that are interested in employing students and graduates.
Wittenborg can bring companies and organisations together with young professionals - both students and graduates - and coach, monitor, and evaluate work placement and outsourcing.
EUSina
Exploiting the world's future leading economy through an organisation supporting your company in Europe-China business development and networking, meeting your need for knowledge, training, and trust networking.
About EUSina
In the past 10 years, the Chinese economy has made resounding and incomparable advances in its infrastructure, economy, social welfare and its international relations. Its future has been redefined. China is now one of the world's most important economic and political players. Many multinational concerns have invested and contributed into this emerging economic power; however, it is also significant for medium-sized and even small concerns and organisations to consider their positions in relation to the Chinese economy and its impact on business practice, competition and profitability. EUSina is a one hundred percent multinational organisation that will continue to support Euro-Sino business and organisational relations to benefit the development of China, and the consolidation of the European Union in and with this market.
EUSina Network
EUSina is a company of European and Chinese consultants based in the UK, the Netherlands, Switzerland and Austria and in the Chinese cities of Beijing, Shanghai, Guangzhou, and Shenyang. EUSina consists of a core team of full-time consultants in Europe and China, who work together with a network of associate consultants. The EUSina Network is essential for the company to maintain a flexible and exclusive approach to SME solutions, in areas required by these companies and organisations.
EUSina - Lifelong Learning
Learning to do business in and from China is a long-term investment. Outside the EUSina network is a strong and important network of advisors, senior business associates, governmental departments, retired industrialists and influential members of the business society in both China and Europe. EUSina's power lies in its people, its ability to network to the advantage of its members and clients. We are assessed on the flexibility and quality of this network, and the business solutions it brings. EUSina comprises a core of full-time consultants in Europe and China, who work together with a network of associate consultants. The EUSina Network is essential for the company to maintain a flexible and exclusive approach to SME solutions, in areas required by these companies and organisations. Outside the EUSina network is a strong and important network of advisors, senior business associates, governmental departments, retired industrialists and influential members of the business society in both China and Europe. EUSina's strength lies in ... its long-term relationships.
Birdsall Training & Consulting
Facilitating optimal corporate excellence through a cross-border and multi-lingual team, offering leaders and managers sales, communication, consultancy, and leadership training and seminars in the local language.
Cross-border training capability, large corporate training initiatives, standardised materials in the local language.
BTC works with a network of 15 core trainers to guarantee a resource people that is able to service the largest cross-border training initiatives. All trainers are "seasoned veterans", with a minimum of 6 years and 500 training days experience per person.
BTCs core training areas are.
* Leadership
* Sales
* Presentation skills
BTC has developed many other programmes, with a large variety of HR and personal development uses. Our quality standards are high, and a key ethos behind our work is:
"practical application of the theory"
and this means we have to get close to our clients, in order to help them build systems and initiatives to ensure learning objectives are practised and observed after seminars have taken place.
Local language capability means "the ability to roll out common programmes in local languages with a trusted partner who will guarantee the same level of standards and results across different languages, using native trainers, with local market knowledge".
Our current language/quality guarantee: English, Spanish, German, Russian, Romanian, Czech, Slovakian, Finnish, Swedish, Serbian, Croatian, and Polish.
---
Innovation & Research Centre
Developing new and existing business and operations through a centre for international expertise, business research & innovation, aimed at bringing together students, lecturers, professors, and researchers.
The Innovation and Research Centre has three main aims: it serves as a platform for researchers associated with Wittenborg's programmes, it aims to provide research and consultancy services to companies and organisations connected to the institution, it allows Wittenborg students to become involved in research projects and experience real-life academic work.