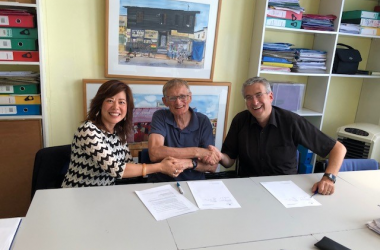 Wittenborg to Offer Range of Programmes at One of UK's most Renowned International Schools
From February 2019 top-up IBA students at Wittenborg University of Applied Sciences will have an additional option to spend part of their studies in the UK – right in the heart of London's financial district.
Wittenborg has entered into an agreement with David Game College, an independent college based in Tower Hill, London. Top-up students refer to those who have had at least 3 years of previous higher education and only need to do one "final year" to get a Bachelor or for those seeking a second bachelor degree in a different field.
David Game College is one of the oldest and most renowned international schools in the UK. It attracts both British and international students who wish to complete a University Foundation programme as well as those who want to follow courses in English as Foreign Language . In addition they offer a number of other educational courses including A levels and GCSE's and HND and BTEC.
This week Wittenborg CEO, Maggie Feng, and chair of the executive board, Peter Birdsall, signed a Memorandum of Agreement with the David Game College in London. Wittenborg already has close educational ties with the UK, through a long-term partnership with the University of Brighton. In fact, Brighton plans to launch a Doctoral College at Wittenborg University Apeldoorn later this year.
"Wittenborg will offer a full range of top-up BBA bachelors modules for students to follow either as separate blocks leading to a study abroad seminar, or possibly as a full top-up Bachelors Honors degree," said Birdsall.
Wittenborg will offer modules from the final-year top-up programme in London in the following specialisations:
Wittenborg will work closely with the David Game College to deliver its programmes, and alongside its own students having the opportunity to study a semester in London, will also be open for students from around the world and the UK to experience a semester or two of 'StudyinHolland - in London'
WUP 18/7/2018
by Anesca Smith
©Wittenborg University Press