Introduction
Students following the Bachelor of International Business Administration (IBA) programme, specialised in Information Management, will learn about the area of international business and management that is vital to the successful operation of companies and organisations, around the world. The organisation and management of company and government information. Information Managers are the key to success in many companies around the world.
The world of company and organisation management is becoming increasingly reliant on the optimal and structured use of information technology, and the management of information. Business administrators need to understand and use technology that gathers and provides information within a local, national and global environment, and industry requires managers who are able to distil and recognize patterns in that information, and who can apply those analyses to achieve business objectives.
If the world of technology, information, internet, and cutting edge IT solutions appeals to you, and you want to excel by using your skills of management, leadership and decision making, then the programme Business Administration in Information Technology is your field!
Course Content
The programme looks at the management of information, the impact of databases and information retrieval on companies and businesses, and also offers modules such as Open Source Software Concepts, Web Design and Benchmarking, and CRM & CMS Systems.
The programme also deals with the company's management of software and the implementation of networks in SMEs.
The Industry
In the modern company, the CIO has now generally become the second most important manager, because of the huge fundamental impact that Information Technology has made on business practices, processes and working environments.
Companies can no longer operate successfully without a secure and well-designed Information Management Policy. Business Administrators must be in firm control of these key areas of their company, and of each department, which includes all personnel working in the team.
Career Prospects
The career prospects for an Information Management specialist remain excellent in the ever changing world economy, and students have joined corporations such as Sun Microsystems and Microsoft, however many graduates have also found management and leadership positions in SME's as information officers.
Graduates can work in a wide variety of settings that require the management and organization of information to operate. This includes sectors like retail, healthcare, banking and business environments. Some possible career paths are:
Database analyst
Communication Manager
Information Security Risk and Compliance Manager
Business Intelligence Officer
Project Manager
Business Information Manager
Applications Developer
Database Administrator
Information Systems Manager
IT Consultant
IT Sales Professional
IT Technical Support Officer
Network Engineer
System Analyst
Systems Developer
Technical Author
Entry Requirements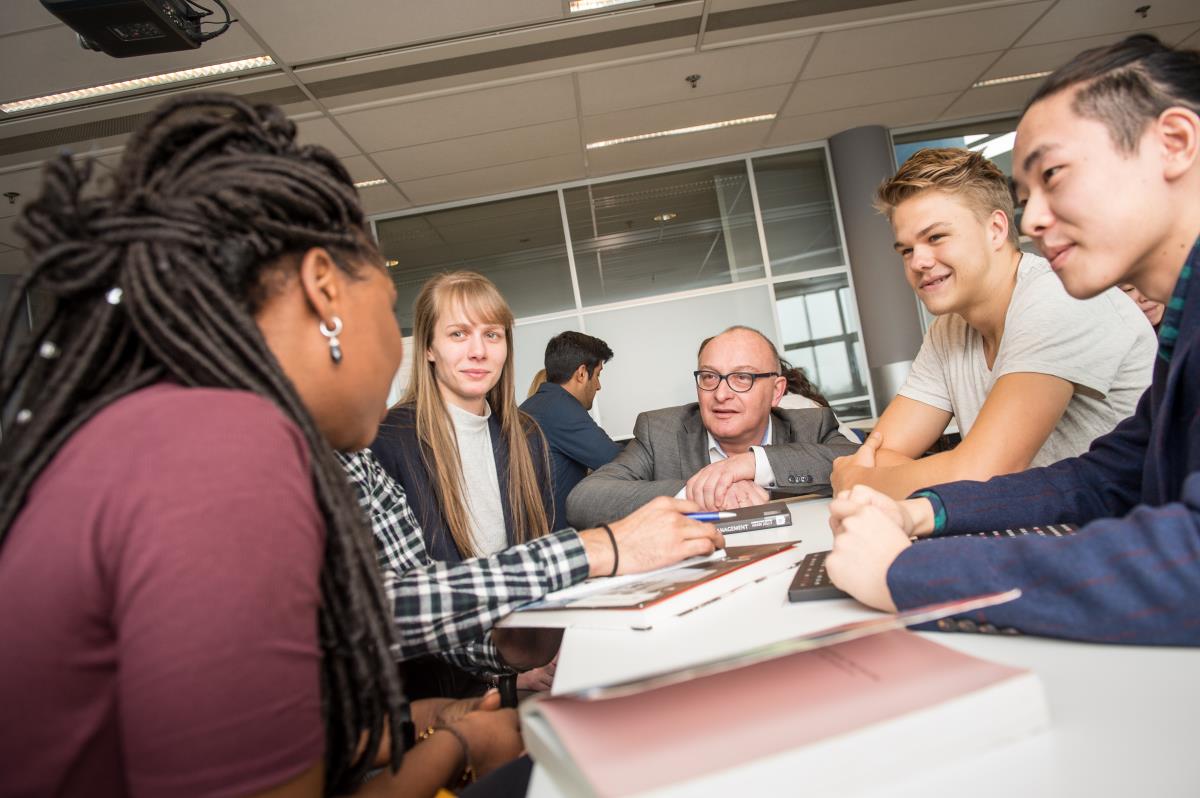 Direct Entry to IBA Final Year (Top-up) degree programmes (Advanced Placement)
Students with successful study experience equivalent to 160 European Credits (2 - 3 Years Higher Education) in a related business or economic field are able to enter directly into the Final year programme (80 credits, 1-2 years). The judgement of entry qualifications for non-Dutch applicants is based on NARIC - UK NARIC and / or the Nuffic Country Modules and a Nuffic evaluation, if required.
In some individual cases, the Graduation and Examination Board will also decide on entry based on credit transcripts and qualifications presented.
Examples:
UK qualifications:
For top-up courses we can consider the BTEC Higher National Diploma (3 year Diploma) holders for entry into IBA Final Year (Top-up) degree programme depending on subjects studied.
Note: we can consider the BTEC National Diploma (2 year Diploma), combined with MBO4 Certificate holders for entry into IBA Phase 2 degree programme depending on subjects studied.
Chinese Qualifications:
For top-up courses we can consider Dazhuan (Zhuanke - 3 year Diploma) holders for entry into the IBA Final Year (Top-up) degree programme if the Dazhuan has been completed in a field of Business & Economics.
Swiss Colleges:
Students transferring from Swiss Colleges will always be required to present their transcripts to the Graduation and Examination Board, through the admissions office at Wittenborg. The Graduation and Examination Board will make an independent decision on entry based on an individual students previous study.
English Language Requirements
IELTS 6 or TOEFL Equivalent. Click here for an overview of the equivalent scores.
TOEFL Code of Wittenborg is 4889.
NB: Students who receive Advanced Placement are not entitled to any Exemptions and applications for Exemptions to the Examination and Graduation Board will not be accepted.
Apply / Information Request