Introduction
The International Business Administration (IBA) field of Economics and Management is the broadest of the selection of IBA specialisations enabling students to understand management from an international and organisational, economy based perspective.
Knowledge of how the economy works has become essential to businesses around the world. The idea that the way companies and organisations, consumers and governments make decisions that will affect the operation, performance and eventual success of a firm has been imbedded within business administration, which makes the programme Economics and Management the broadest business degree offered by Wittenborg. Economics concerns the conduct of business within the local social and political environment, looking at the conduct of business, government policy-making, laws and restrictions and the enormous changes taking place within Europe, Americas, Asia, Africa and the rest of the world.
Management looks at the skills and competencies required to effectively manage a company or organisation within the economy and the coordination of materials and labour, within the scope of the organisation's mission, goals and defined objectives. It looks carefully at the distinct relationships between the segments of an organisation, and how these segments are united to form a successful and thriving enterprise. Management students look at the way managers function, lead, and make decisions, and they consider a managers decision making role and effect on the organisations operations.
Course Content
This Final Year Top-up Programme covers many of the IBA fields however focuses on the management of core areas of business that are fundamental to the economics of the organisation, such as quality control and logistics as well as the comparative areas of financial management and business accountancy.
The Industry
Students who choose the BBA programme of Economics and Management will specialise in the field of understanding macro and micro environments in business, looking at the production, distribution and consumption of goods and services. You learn about the management of assets and wealth, also market forces which can change a product's outlook or a company's market share.
Career Prospects
The career prospects of Economics and Management graduates are excellent, with around 30% of graduates having chosen for continued education at Master level, however many graduates entering business directly in sectors such as the financial Services and real estate sectors, but also companies dealing with international trade, import and export.
Wittenborg graduates can be found as logistics managers at robust SME manufacturing companies, but also as financial specialists in corporations such as Achmea Insurance and Sun Microsystems.
Entry Requirements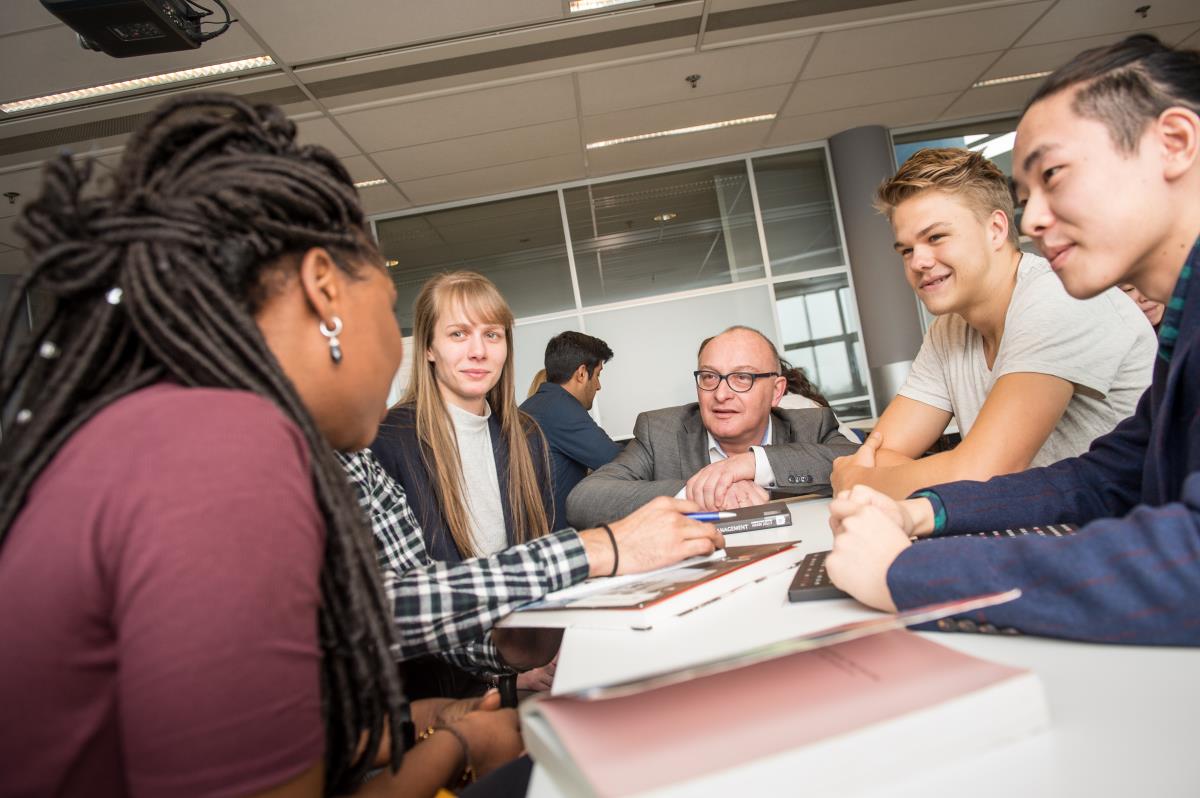 Direct Entry to IBA Final Year (Top-up) degree programmes (Advanced Placement)
Students with successful study experience equivalent to 160 European Credits (2 - 3 Years Higher Education) in a related business or economic field are able to enter directly into the Final year programme (80 credits, 1-2 years). The judgement of entry qualifications for non-Dutch applicants is based on NARIC - UK NARIC and / or the Nuffic Country Modules and a Nuffic evaluation, if required.
In some individual cases, the Graduation and Examination Board will also decide on entry based on credit transcripts and qualifications presented.
Examples:
UK qualifications:
For top-up courses we can consider the BTEC Higher National Diploma (3 year Diploma) holders for entry into IBA Final Year (Top-up) degree programme depending on subjects studied.
Note: we can consider the BTEC National Diploma (2 year Diploma), combined with MBO4 Certificate holders for entry into IBA Phase 2 degree programme depending on subjects studied.
Chinese Qualifications:
For top-up courses we can consider Dazhuan (Zhuanke - 3 year Diploma) holders for entry into the IBA Final Year (Top-up) degree programme if the Dazhuan has been completed in a field of Business & Economics.
Swiss Colleges:
Students transferring from Swiss Colleges will always be required to present their transcripts to the Graduation and Examination Board, through the admissions office at Wittenborg. The Graduation and Examination Board will make an independent decision on entry based on an individual students previous study.
English Language Requirements
IELTS 6 or TOEFL Equivalent. Click here for an overview of the equivalent scores.
TOEFL Code of Wittenborg is 4889.
NB: Students who receive Advanced Placement are not entitled to any Exemptions and applications for Exemptions to the Examination and Graduation Board will not be accepted.
Apply / Information Request