Introduction
The Top-Up double degree combines Wittenborg's final-year programme IBA Entrepreneurship & Small Business (BBA) with the BSc (Hons) in Business programme of the University of Brighton.
This course is designed for students who want to build on a business-related foundation degree, HND or equivalent qualification.
In just twelve months, you can upgrade to a Dutch BBA combined with a UK BSc and graduate with significantly enhanced employment prospects.
With an emphasis on practical skills development, the course helps you to develop expertise in project management, report writing, presenting, strategic thinking, teamwork and leadership.
We use up-to-date case studies to illustrate the application of business theory to real-world scenarios and host a series of guest lectures to give you insight into the sector.
After graduation, you will be prepared for work in areas including sales, marketing, human resource management, procurement, logistics and international business.
Course Content
The University of Brighton part of the course has five compulsory modules and two electives.
Wittenborg's part of the programme brings a further two elective modules and the Work Placement / Business Plan execution module that is part of the Applied Sciences approach to the degree.
Many of the optional modules include guest speakers from industry.
Syllabus
Modules
Developing Academic Knowledge and Skills
Strategic Management
Operations and Process Management
Managing Organisations
Dissertation/Project/Research option
Options include:
Entrepreneurship: New Business Planning
Globalisation and International Markets
Labour Market Analysis
Current Issues in Finance
Electronic Commerce
Digital Marketing
Human Resource Management
Project and Event Management
Competitive Advantage and the Global Economy
Current Issues in Strategic Management
The Industry
This course teaches students to be reflective and develop a portfolio of transferable skills. These make finding a job much easier when approaching the job market upon graduation.
Graduating with a Dutch Bachelor of Business Administration degree and a UK Business BSc(Hons) top-up degree provides you with a huge choice of careers. Students have gone on to work in sales, marketing, human resource management, IT, purchasing, logistics, international business and general management.
Careers advice and support
Wittenborg's Work Placement and Careers service provides help and advice from the very start of your studies, on subjects including careers counselling sessions, CV checking, mock interviews and advice on setting up your own business.
Entry Requirements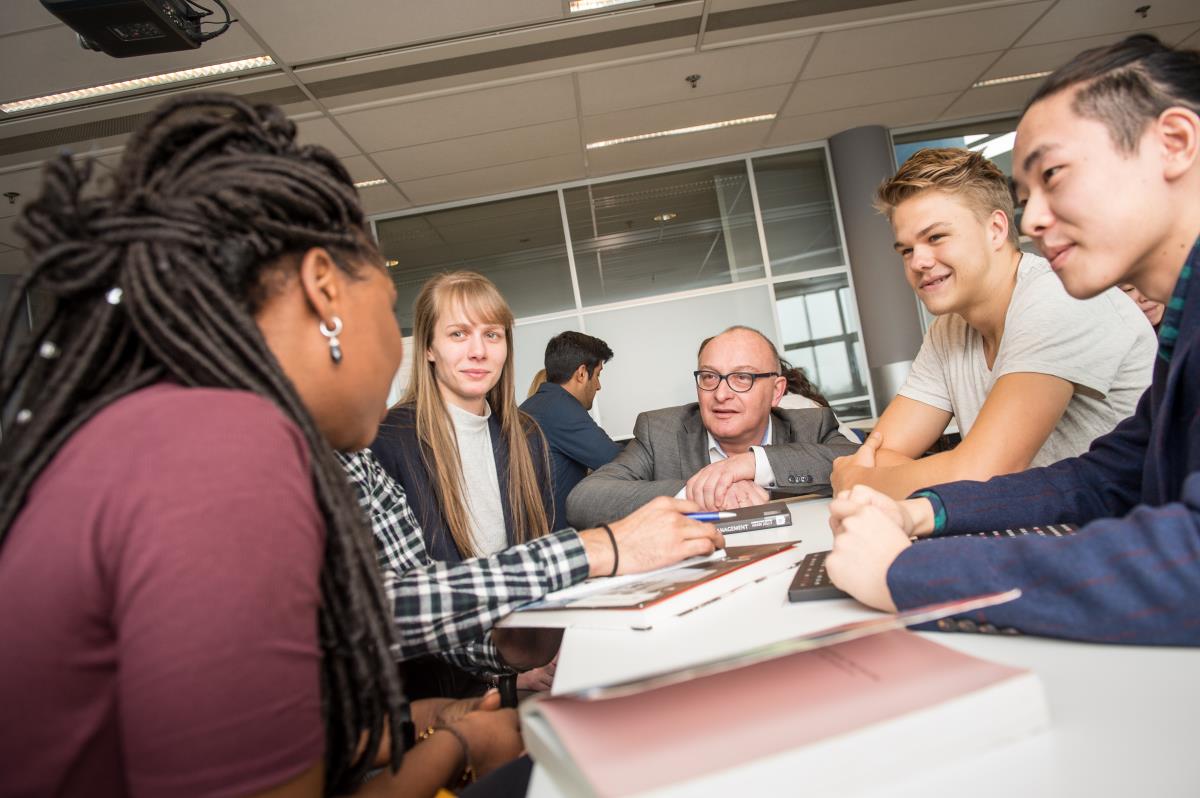 Direct Entry to Bachelor Final Year (Top-up) degree programmes (Advanced Placement)
Students with successful study experience equivalent to 160 European Credits (2 - 3 Years' Higher Education) in a related business or economic field are able to enter directly into the Final-Year programme (80 credits, 1-2 years) through Credit Transfer. The initial judgement of entry qualifications for non-Dutch applicants is based on NARIC - UK NARIC and/or the Nuffic Country Modules and a Nuffic evaluation, if required.
In all individual cases, the Graduation and Examination Board will decide on entry based on credit transcripts and qualifications presented.
Examples:
UK qualifications:
For top-up courses we can consider the BTEC Higher National Diploma (3-year Diploma) holders for entry into IBA Final Year (Top-up) degree programme depending on subjects studied.
Note: we can consider the BTEC National Diploma (2-year Diploma), combined with MBO4 Certificate holders for entry into IBA Phase 2 degree programme depending on subjects studied.
Chinese Qualifications:
For top-up courses we can consider Dazhuan (Zhuanke - 3-year Diploma) holders for entry into the IBA Final Year (Top-up) degree programme if the Dazhuan has been completed in a field of Business & Economics.
Swiss Colleges:
Students transferring from Swiss colleges will always be required to present their transcripts to the Graduation and Examination Board through the admissions office at Wittenborg. The Graduation and Examination Board will make an independent decision on entry based on an individual student's previous study.
English Language Requirements
IELTS 6 or TOEFL equivalent. Click here for an overview of the equivalent scores.
TOEFL Code of Wittenborg is 4889.
NB: Students who receive Advanced Placement are not entitled to any Exemptions and applications for Exemptions to the Examination and Graduation Board will not be accepted.
Modules in Focus
Developing Academic Knowledge and Skills
This module has been designed specifically for students who are new to the university.
Lecturers aim to support you as you prepare to come to university, during induction and the initial weeks of the course.
Staff continue to promote academic development and support as you work towards the attainment of an honours degree.
Strategic Management
The module will help you review and critically assess the theory and practice of strategic management from the mid-twentieth century to the present.
The contribution from various key writers will be used as a framework and the impact of practical problems on theory will be considered.
Successful completion will enable you to understand a range of approaches to strategy and evaluate which options are likely to be effective in a particular situation.
Apply / Information Request