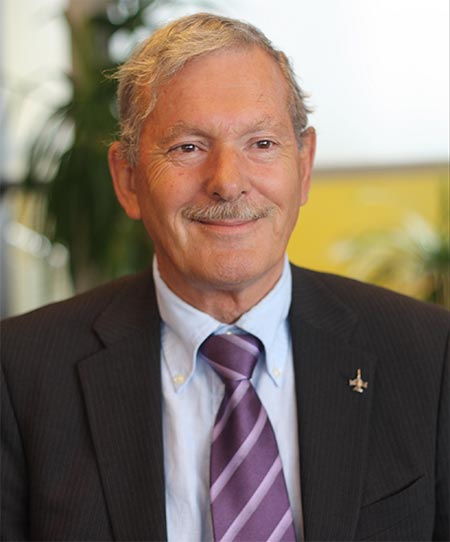 Ton Willems, respected lecturer at WUAS and retired military officer, has passed away at the age of 70.
Willems died on Wednesday, 11 January, in Almelo after an extended period of illness. He leaves behind his wife, Hermie Willems-Holshof, and three daughters: Susanne, Natasja and Marjolein.
The sad news was announced on Friday by Wittenborg's chair of the executive board, Peter Birdsall, who also expressed his condolences to Willems' widow on behalf of the university.
"We will sincerely miss him, his sense of humour, his discussions and of course his absolute loyalty to our school. We knew that Ton was very sick, but still it comes as a great shock to us all," Birdsall said. According to him Willems was a highly respected and very much appreciated colleague at Wittenborg with whom he and Wittenborg CEO, Maggie Feng, had a warm relationship.
Willems taught a range of modules at Wittenborg from 2004 – 2015 and had a guiding influence on many students who came to study at Wittenborg from all over the world. Courses he lectured includes Quality Management, Research Methods, Industrial Relations, Statistics and Corporate Strategy.
Antonius (Ton) Johannes Willems was born on 11 December 1946 in Haarlem. He was educated at the Royal Military Academy as technical officer in the Royal Netherlands Air Force. He also studied Public Administration at Leiden University and Management and Economics in Eindhoven.
During his illustrious career in the Air Force Willems enjoyed his contact with aircraft maintenance and the armaments industry, and later on with many external consultants hired to enable the success of various strategies of change and reorganisation projects. He held various command positions at maintenance depots, the RNLAF headquarters as well as the Dutch Ministry of Defence in The Hague and NATO's supreme headquarters in Belgium.
After his retirement he found AJW Management Consulting to advise the Royal Library on optimizing book flows, based on logistics insights and modern IT and warehousing.
Ton also acted as elected chairman of the Principal Board of the Dutch Officers Association, a union that promotes the interests of Dutch officers.
There will be a cremation ceremony for Willems on Tuesday, 17 January 2017, at 12:30 at the Crematoria situated at 40 Usselerrietweg in Enschede (West Entrance). Afterwards there will be a gathering at De Hanninkshof Restaurant, 5 Usselerhofweg in Usselo-Enschede where friends and family can extend their condolences to the family.

WUP 13/1/2017
by Anesca Smith
©WUAS Press