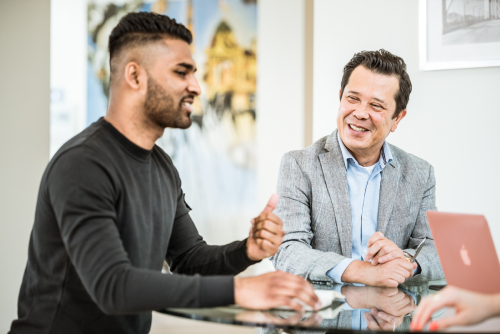 Wittenborg offers 4 year PhD research degrees together with its UK partner, the University of Brighton (under UK law). Students study at Wittenborg in the Apeldoorn Doctoral College, and have two supervisors, one from the University of Brighton and one from Wittenborg. The PhD degree is awarded by the University of Brighton.
The Doctoral School of the University of Brighton (UK) offers a four-year full-time or six-year part-time doctoral degree (PhD) programme. The PhD programme is a structured and supervised research programme that will enable students to produce high-quality research that not only makes an original contribution to their field but one that is also publishable in high-quality peer-reviewed journals. The Doctoral Programme is delivered via regular meetings between students and supervisors, and self-generated work by the PhD-student.
There is no formal teaching involved in the research degree. However, doctoral students can attend a variety of formal learning opportunities including workshops, online learning sessions and Research Centre training that run throughout the year.
Students can also attend any of the taught Masters' level modules and can discuss and present their work in the regular Research Centre meetings. PhD supervisors will introduce their students to the appropriate network of academics in their area of study.
Our Research Centre offers advice on attendance at international conferences and training where students can present their work and interact with people from their field of study.
This programme is offered jointly with the University of Brighton, providing research students numerous opportunities from the combined benefits of an extensive network of professionals, a wealth of knowledge and experience, resources, facilities, and student support.
Doctoral students apply to specific research projects, but in these instances, they still are expected to take ownership and shape their proposals into an independent piece of work that would normally make an original contribution to knowledge. Other areas expect applicants to propose a research topic of their own prior to considering them for admission.
If you are in doubt about whether we can offer the appropriate supervision, please contact our Doctoral School. In some instances, we may have to tell you that we cannot supervise you as it would not be in your best interests to accept you if we are unable to provide the necessary facilities and supervision.