Wittenborg University's Education Department ensures the organisation of the curriculum is carried out as described in the Education & Examination Guides, besides being also responsible for the development and quality control of the curriculum of all the university's programmes through the Education Board. The board, made up of academic members from different areas of the university, is chaired by the university's Director of Studies.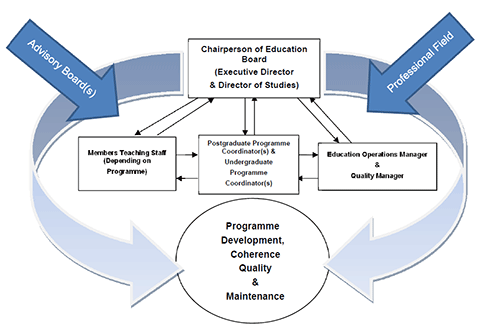 Wittenborg's programmes are developed and monitored by the Education Board, on the one hand comparable to the research and development department of an organisation, and on the other hand to the programme management team within an institute of higher education. The Education Board is responsible for aligning its programmes with the professional field and requirements of the market. Contact with advisory bodies and the professional field ensures external interaction and 'real-world' relevance.
The board is comprised of key Wittenborg staff concerned with the development and deployment of the programmes, including the Academic Dean, the School Coordinators, the Education Operations Manager, the Quality System Manager, and various members of the teaching staff depending on the programmes being discussed or developed.
International projects, inter-institutional agreements for study and teaching mobility, and transnational education programmes are approved by the Education Board, often in discussion with the Examination & Graduation Board.
The Education Board prepares all programmes for accreditation and re-accreditation as well as assisting the organisation with the planning and execution of accreditation procedures and events.
The aims of the Education Board are:
1. To develop and have accredited new bachelor's and master's degree programmes
2. To maintain and re-develop all current bachelor's and master's degree programmes
3. To review feedback from students, teachers, (work placement) companies, business networks and Wittenborg's alumni, and to take action on results
---